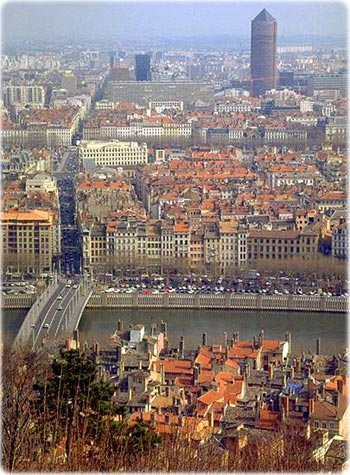 Photo: Lyon Landscape

EM LYON INTERNATIONAL MBA, A NEW PERSPECTIVE!

Today, companies no longer look for "Administors". Theyre cruit leaders that can identify opportunities, learn "on the fly"as new problems and challenges emerge, marshal resources, and build effective relationships to not only get the job done, ...but done right.
EM LYON is proud of its entrepreneurial heritage. It underscores its entrepreneurial focus in its baseline "Educating Entrepreneurs for the World." Our goal is to develop leaders
with both an entrepreneurial attitude and core competencies to
build and innovate for the world. From its unique experiential learning design and tailormade
electives to innovative selection processes and career development assistance, the EM LYON International MBA offers a truly unique MBA - an entrepreneurial approach from an entrepreneurial school!

A strong entrepreneurial focus
Entrepreneurial leaders are not developed in classrooms.
EM LYON offers one of the most dynamic learning experiences available anywhere. Building competencies through experiential learning allows you to gain new competencies AND prove that you are able to put them into action. Experiential learning is designed to provide real consequences,
encouraging creative thinking, and pushing personal comfort zones to learn about yourself, your environment and your respective value drivers.

A unique recruitment process
The success of our MBA starts with a stringent selection process. Our objective is to get an ideal mix of students to foster learning. Specific concerns of learning agility and learning flexibility are addressed in the interviewing process. We seek participants who can integrate in a cohesive yet
diverse team ready to take part together in a life changing learning experience.
By integrating participants from varying backgrounds, cultures, and experiences, the programme clearly values difference
project with stakeholders.
(Project examples
A clear career focus with the unique Career Power system and Placement services
This process places your career development as our number one objective. With the help of specialised and private coaches and recruiting experts, you will learn to manage your career development effectively. You will be guided through numerous career enhancement workshops starting as early as September.
The objective of this process is the placement of 100% of our participants with the right position.



2006 PARTICIPANT'S PROFILE!
13 countries represented:
CANADA - CHILE - CHINA - FRANCE - HONG KONG - INDIA -IVORY COAST - LEBANON - MEXICO - RUSSIA - SYRIA – UNITED KINGDOM - USA
Average age: 33 years old
Average work experience: 8 years
67% non french participants
84% change positions, of which 40% become executives Background:

OUR MBA AT A GLANCE
- Speaking language: English
- 1-year length (September-September)
- Maximum 50 participants
- Possibility of double degree with Cranfield School of Management
- Over 2 500 alumni around the world (16 600 in total for EM LYON)
- Triple accreditation: AMBA, AACSB, EQUIS
- 84 full-time professors
- 300 persons staff

NETWORK
Top 15 countries recruiting our International MBA graduates
BELGIUM - CANADA - CHINA - FRANCE – GERMANY -INDONESIA - ITALY - JAPAN - LUXEMBOURG – MEXICO -NORWAY - SPAIN - SWITZERLAND - TURKEY - UK - USA
Businesses evolve. EM LYON
TOP EM Lyon International Recruiters
3M - ADECCO - AIR LIQUIDE - ALCATEL - ALLIANZ GROUP - ALSTOM - AMGEN - ARCELOR MITTAL AREVA -BAYER - BIOMERIEUX - BNP PARIBAS - BOUYGUES - BRISTOL - MYERS SQUIBB - BRITISH AMERICAN TOBACCO-CARREFOUR - DANONE - DELL - EADS - ESSILOR INTERNATIONAL -EXXONMOBIL - FIAT SPA – GEMPLUS -GENERAL ELECTRIC - GSK GLAXOSMITHKLINE - HP - IBM - JOHNSON & JOHNSON - L'OREAL - LVMH - MERCK KGAA-MICHELIN - MICROSOFT - NESTLE - ORACLE - PFIZER - PHILIPS - PSA PEUGEOT CITROEN - RENAULT – ROCHE -SAFRAN - SAINT GOBAIN - SANOFI - AVENTIS - SCHERING PLOUGH - SCHNEIDER ELECTRIC - SHELL – SIEMENS-SOCIETE GENERALE - SOLVAY - ST MICROELECTRONICS - SUEZ - TOTAL - VIVENDI UNIVERSAL - VOLVO...